Grayson is 1 month old today! He is starting to talk to us, and he gave us his first smile. I didn't get to capture it on camera yet though. He is sleeping about 6 hours during his first stretch, so I am happy about that. I load him up at 10pm and he sleeps until usually 4am. Then, he goes until about 8am for his next feeding, and then we are up for the day.
Here are a few pictures of him from his first month with us.
Granny holds him (that's his Great Granny)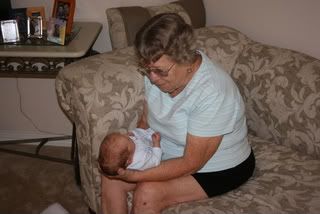 Brayden holding him:
Kaylee holding him:
His first bath: He loves bathtime and relaxes so much he almost falls asleep
We finally caught him smiling: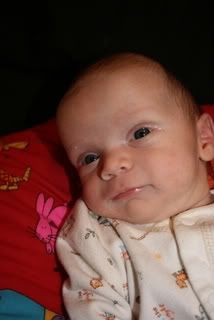 Sleeping oh so sweet:
This picture reminds me of Austin Powers character "Dr Evil" saying "One Billion Dollars"